What is the role of Community Based Organizations in SACRED Birth?
Representatives from fourteen Black women-led/serving community-based organizations (CBOs) across central, northern, and southern California serve as Community Accountability Partners (CAPs).  Each CBO acts as an accountability partner to ensure the operationalization of cultural rigor in the study from identifiying and prioritizing untested Quality Improvement themes or topics, all the way through to sharing data with the public.  The study principal investigator, Karen A. Scott, MD, MPH, FACOG and Sonya Young Aadam, CEO of the state lead CBO, the California Black Women's Health Project, will facilitate monthly meetings with the CAPs for the purpose of implementing the Quality Impovement Prioritization of Affected Communities (QPAC) protocol.  
What are the responsibilities of the Community Accountability Partners?
Each CBO is expected to send 1-2 delegates (depending on capacity) to participate in the CAPs orientation in Spring 2020 followed by six monthly 2-hour meetings from June 2020 - December 2020.  The facilitators, Dr. Scott and Sonya, will support the CAPs to establish expectations, clarify collective roles and responsibilities, and review deidentified data from the Patient Reported Experience Measure of OBstetrics, also known as the PREM-OB Scale.  Dr. Scott and Sonya will also facilitate brainstorming and open dialogue to generate and prioritize QI improvement recommendations for the PREM-OB Scale composite score and domain specfic scores for Safety & Accountablity, Autonomy and Kinship, Communicaiton & Information Exchange, Racism, Empathy & Humanity, and Dignity in Blackness & Holistic Care.  CAPs are also expected to support patient and public involvement with the SACRED Birth Study through patient referral, patient recruitment, and participation in online media activities.
What are the benefits to study participation for the CBOs?
SACRED Birth shifts the power of knowledge generation, storage, utilization, and sharing from traditional gatekeepers such as QI experts, data scientists, clinicians, funders, and health plans to Black mothers and birthing people, Black women-led/serving CBOs, Black women scholars in public health, social sciences and humanities, and academic women accomplices.  The six meetings will take place in person and remotely.   SACRED Birth compensates individual CAPs for time, effort, and expertise with a monthly stipend, based on participation in monthly meetings and completion of pre- and post-meeting tasks.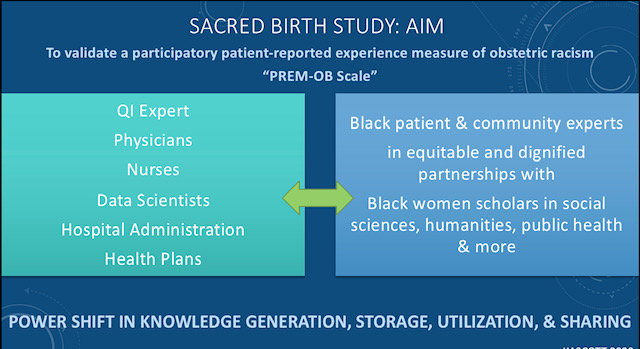 What is the role of the California Black Women's Health Project (CABWHP)?
In partnership with the SACRED Birth Study Principal Investigator and team, CABWHP provides experiential, cultural, spiritual, and mainstream knowledge as a Black women-led/serving CBO to the administrative, programmatic, and research approaches and activities.  The SACRED Birth team recognizes that advancing Black centered racial justice and perinatal equity in hospital-based services, support, and care requires authentic and sustained participation of impacted community members and leaders.  Based on CABWHP's history, capacity, impact and reach as a Black women-led CBO, their participation in this work adds cultural humility, relevancy, and responsiveness to the study and strengthens the cultural rigor and safety in the scientific methods of health services research and provision and participatory QI initiatives.
Who are the CBOs that serve as Community Accountablity Partners?
California Black Women's Health Project (Lead State CBO)
African American Breastfeeding Cultural Outreach Taskforce
Growth Mindset Communication 
iDREAM for Racial Health Equity 
Public Health Fund Enterprise/WIC & CinnaMoms 
Roots of Labor Birth Collective
Jazz Ylaine-Baptiste - Individual Black Birth Worker 
For more information about Community Accountabiliy Partners and public involvement with SACRED Birth, click here to send the study team an email:[email protected]